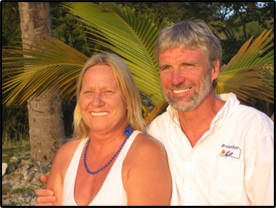 Experience, Experience & More Experience
We are Kristian & Marianne, and this is our business. We are Danish citizens and have been sailing together for over 30 years.  Marianne holds an International Yacht Master 3rd Degree license and Kristian holds an International Yacht Master 1st Degree license.  We designed and built two larger sailboats from scratch and we've sailed the Baltic Sea, the North Sea, the English Channel, the Mediterranean, the Pacific Ocean & the Carribean.  In fact, we sailed across the Atlantic Ocean twice, once in a boat that we built.  We have chartered boats for customers like you for 27 years in the Bahamas, Central America, and the Virgin Islands where we have been for the past 22 years.
We understand customer service and care about your catamaran vacation experience in a way that larger companies and younger crews simply cannot.  Our extensive experience with boats and chartering will give you a greater peace of mind and allow you to more fully relax and enjoy your vacation.
You are the best host's we have ever had! Every little thing you did made us feel at home and pampered at the same time. You took us to the most wonderful spots for snorkeling and enjoying the views. We love your boat and the two of you! The food was fantastic! Thank you so much!

Kathy and Jeff
This is difficult to put into words just how unique our time has been on Breanker and with the two of you. Your patience, obvious experience and talent on deck and in the kitchen, and your infectious smiles are unparalleled. I can only say thank you for sharing part of your lives with us. People are truly blessed to have spent time with the two of you. We share that blessing.

Bennett
Safety from In-Depth Knowledge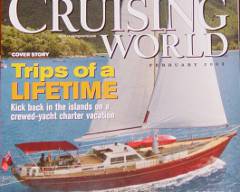 We designed and built our first sailing yacht, a traditional 68' Baltic Trader, Nana, in Denmark in the seventies and set off in 1983 on a four-year cruise in the Mediterranean and the Caribbean. We sold Nana and we started the project of designing and building Casador, a luxurious 68' aluminum sloop which became the cover of Cruising World in Feburary 2003 shown in the picture here.  We chartered Casador for many years, giving us a unique perspective on exactly what makes a boat great for customers.
We used that knowledge to completely retrofit Breanker for your pleasure and safety.  We know our boat to a level of detail that many charter captains will never understand.
Thank you both for a wonderful week – We are speechless!!!

I am so glad we went with you for our charter! You made the trip so easy for us but we know the two of you worked so very hard. Your experience shows and we had complete confidence in your knowledge, skill and judgment. You made us feel safe and took excellent care of our young children – our most valuable treasures!

Nilesh, Monica, Rekha, Keegan and Maya