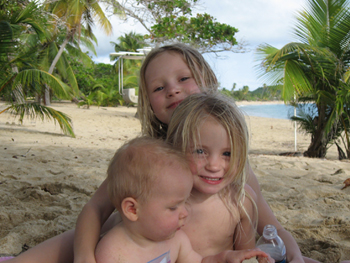 We are parents and grandparents so we love children and know how to help children have the time of their life on a catamaran vacation while ensuring that they remain safe.
Come and visit us some time in Pittsburg. We cannot thank you enough! We liked every thing, we might come back. We really liked your food! We all liked your cheesecake. Cam really liked it so did Patti/mom and Ann and especially me, Lauren. We will miss you guys.
Wrote by Lauren, nine years old, almost ten.
Amazing! The trip of a lifetime. A great experience. WOW. Thank you very much.
Parker Shea (11 years old)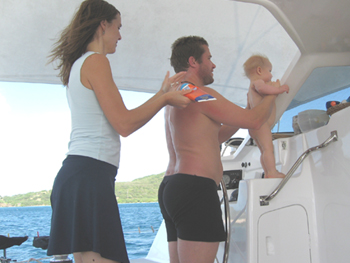 Thank you so much for the awesome food. We had a wonderful time. The snorkeling was so much fun. We saw a lot of fish. I can't wait to come back.
Rekha (9 years old)
We enjoyed our trip to the BVI's. We appreciate the countless painkillers you made with us along with all the other stuff you did for us. We hate to leave because we have had such a great trip and we hope to join you on another vacation soon. Thank you for showing us some great sights on all the little islands you took us to. It was a great trip we will never forget.
Sincerely us – the kids – Julia, Mary Caroline, Mary Elizabeth, Colin. – written by Julia (10 years old)
Thank you so much! I had a wonderful time, this was an awesome trip (one of the best)! I LOVED the food and the drinks, the snorkeling, the beaches and the water was great! It was very fun sleeping on the boat, especially with the rocking! I hope we get to come back.
Love Molly (11 years old)
To Marianne and Kristian, thank you a lot! I liked this trip a lot! The swimming was really nice (and wet). Again thanks!
From Maggie (age 9)
This was my favorite vacation. I loved every thing. The food, places and the boat, and most importantly the crew. I've never had a tuna steak before but I loved it. Breakfast was great with all the fresh fruit and food. The lunches were perfect after a day of swimming and the dinners were things I would never had thought of having. THANK YOU!
Keelan (age 14)
We have had the most wonderful relaxing week with you. I can't wait to come back. Your gracious hospitality has won our family's heart. You both are such gentle genius people. I will always have fond memories of this trip with you, especially since you stole my son, Arthur's heart with your fabulous meals and your caring spirit. Kristian, you are such a gentle person. It was a pleasure spending the week with you and see how you calmly handled your boat and every situation we encountered. Many thanks for the introducing our family to the BVI way of life! We'll be back!
Fondly, Arthur, Carlton Arthur and Dudley
Come see us in the mountains! P.S. You are a fabulous cook Marianne